Binsdone is a professional family run wheelie bin cleaning company based in Middlesbrough that also provides a service to surrounding areas.
We aim to provide a regular wheelie bin cleaning service for both commercial and domestic wheelie bins. Binsdone has a growing customer base, and we provide a high standard of workmanship. We're dedicated to providing the most thorough, fast and convenient bin cleaning anywhere in the area, and always strive to offer our clients a top notch service.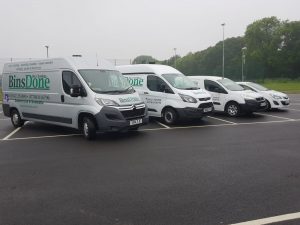 As a modern company, we utilise purpose built environmentally friendly wheelie bin cleaning machinery. This enables us offer a fast and highly efficient service, keeping your bin clean and fresh without a long and inconvenient cleaning process.
We don't only deal with bins – we also provide a wide range of other cleaning services. From the largest commercial tasks to smaller domestic ones, we're versatile enough to take on a large variety of cleaning jobs. Some of our services include:
: Conservatories and UPVC cleaning
: Bin store area cleaning
: Patios, decking and driveways
These are just some of the great cleaning services we offer, so if you'd like to learn more, feel free to browse the rest of the site or give us a call.
Below is just some of the customer feedback we have received. Head over to our Facebook page for more!
"Been using these for 2 years now and can't beat a nice smelling bin, lovely lads who do a great job and so reasonable priced too, thank you 😊"
– Karen

"Got my bin done for the 1st time of these gents today!!! they were very professional,socially distanced, and were extremely polite and chatty!! my bin looks brand new will 100% carry on using them!"
– Michelle

"Used this company for a few years now, excellent service and pricing, no hassle at all.
Would highly recommend, and never been let down. Great work 👌👍"
– Stacey

"Always do a very good job. staff pleasant and I'm very happy with the job they do. Well done!!!"
– Sarah-David

"Fab job, keep my bins fresh & recommended to Neighbors"
– Charlie

"Always prompt, really friendly and do a good job. We have been getting our bins cleaned for years off these lads and have never had any complaints. Would recommend them to anyone ☺️"
– Emma

"Brilliant service, would definitely recommend!"
– Jenna

"Brilliant service, love that they making it easy to pay by bank transfer with a card through door if you miss them, saves bills running up. Definitely recommend"
– JWS Watson

"Today I had my bins cleaned by BinsDone and what a fabulous job!! They even brought them in for me… Didnt know getting my bins cleaned would be so satisfying. Thank you so much Im glad to be getting them done every 4 weeks 🌟"
– Katie